Become an Intercultural Leader

I know you need flexible learning solutions to develop global leadership skills that focus on cross-cultural understanding
My name is Elizabeth, and I help managers learn how to work with people who are not like them.
You are capable, confident, and conscientious regarding your career trajectory. You've developed respect over the years, achieved rapport with your colleagues, and are recognized for your leadership abilities. Your people look up to you.
However, that certain something is missing.
In today's multicultural workforce you may not always know why people act the way they do.
Maybe you are decisive but are not sure how this might affect someone who has different cultural values that require more reflection.
Maybe you are used to an environment where the workflow is more casual regardless of who's the boss; however, you are uncertain with colleagues from more formal cultures where people simply don't take the initiative...and you're not sure what to do.
Maybe you are admired as the leader of a team and its members are happy to let you take the lead, but are not sure why this has a negative effect when working with other groups that seem to use more of a distributive style of team leadership.
You can change your destiny at work and become a dynamic leader who knows what to do in uncertain situations.
First, a little about my journey:
Ten years ago an event changed the way I approached my outlook on intercultural learning.
During a conference, I had an intense conversation with the creator of the theory behind the Developmental Model of Intercultural Sensitivity, which forms the basis for the IDI - the Intercultural Development Inventory. The IDI is an enormously useful, cross-cultural assessment tool that I utilize in my own work.
Upset at my average scores on this tool, which assesses how we interact with cultural differences, I argued my point that as humans we are all the same. After all, I was trying to be inclusive, considerate, and open-minded. However, my colleague, in his wisdom, firmly stood his ground and said that no, we are not; research (and human nature) shows otherwise.
Round and round we went until I walked away in frustration. I simply was not ready to grasp the depth of its meaning.
Then I came upon this quote...
"We are often unable to tell people what they need to know because they want to know something else."
~George MacDonald
It hit me like a ton of bricks!
I had to be open to my own basic assumptions and biases in order to develop as a global leader. From this moment on, I summoned the courage to actually face my own blind spots regarding cultural differences and begin to examine the very concepts I sought to teach others. This had to be done from the inside out.
To be a successful global leader requires the tough process of inner work. There are NO shortcuts!
As a result of this humbling experience, I began a challenging and not always comfortable journey towards developing my own intercultural awareness from the inside out.
It was not an easy journey and was filled with rough waters as I dealt with my blind spots and the reality of the mistakes I would make because of them. But as a result of this inner work:
I developed a better sense of who I was (my own individual cultural identity)
I became less judgmental and more aware so that I could take action to change my attitudes and behaviors
I was more open to examining someone else's frame of reference based on THEIR perspective rather than my own
Through this hard work I finally "got" it - and changed the way I interacted with people - for the better!
And YOU can do the same.
Whatever your situation, I'm here to help you make sense of the complex issues that affect your daily tasks because of the values, beliefs, and attitudes that can make working amidst cultural diversity a challenge.
Case Study: The Unintended Offense
The Challenge
Your American colleagues reserved a top meeting room overlooking the stunning grounds of corporate headquarters to meet important Chinese guests, because VIP visitors typically complement the view, ambiance, and high-tech features.
When the big day arrived, guests were ushered into their seats facing the window so they could soak in the views with a bottle of Evian at every seat.
Unfortunately, your CEO had an emergency and called to say he would have to meet you and the visitors in the evening at the restaurant for dinner. That night he was again delayed and asked you to be the master of ceremonies.
Interactions didn't exactly go well from there. You could sense distance from your guests but didn't understand why.
Eventually, key negotiations fell apart.
The Solution
In this case, the American team didn't take the time to learn essential cultural information about how to do business with their guests. Chinese business relationships are built on respect.
>> A symbol of goodwill, tea should be served as opposed to bottled water. Chinese tea culture is critical to developing a foundation of trust. Without trust, there is no possibility of a productive relationship.
>> In business meetings, the Chinese expect the most important person to be given the best seat and all participants are expected to introduce themselves along with their title. The same was expected of the Americans and their team. Unfortunately, the Chinese were seated facing the window, not the door, which is perceived as a lack of trust. In ancient times, the emperor always sat facing the door in order to be ready to brandish his sword should an enemy enter.
>> The American CEO not making an appearance at the meeting or at dinner was also unintentionally disrespectful. The Chinese expect the leader of both parties to make speeches about their company, its importance to the industry, and its accomplishments.
What is YOUR destiny?
"Your beliefs become your thoughts;
your thoughts become your words;
your words become your actions;
your actions become your habits;
your habits become your values;
your values become your destiny."
~ Gandhi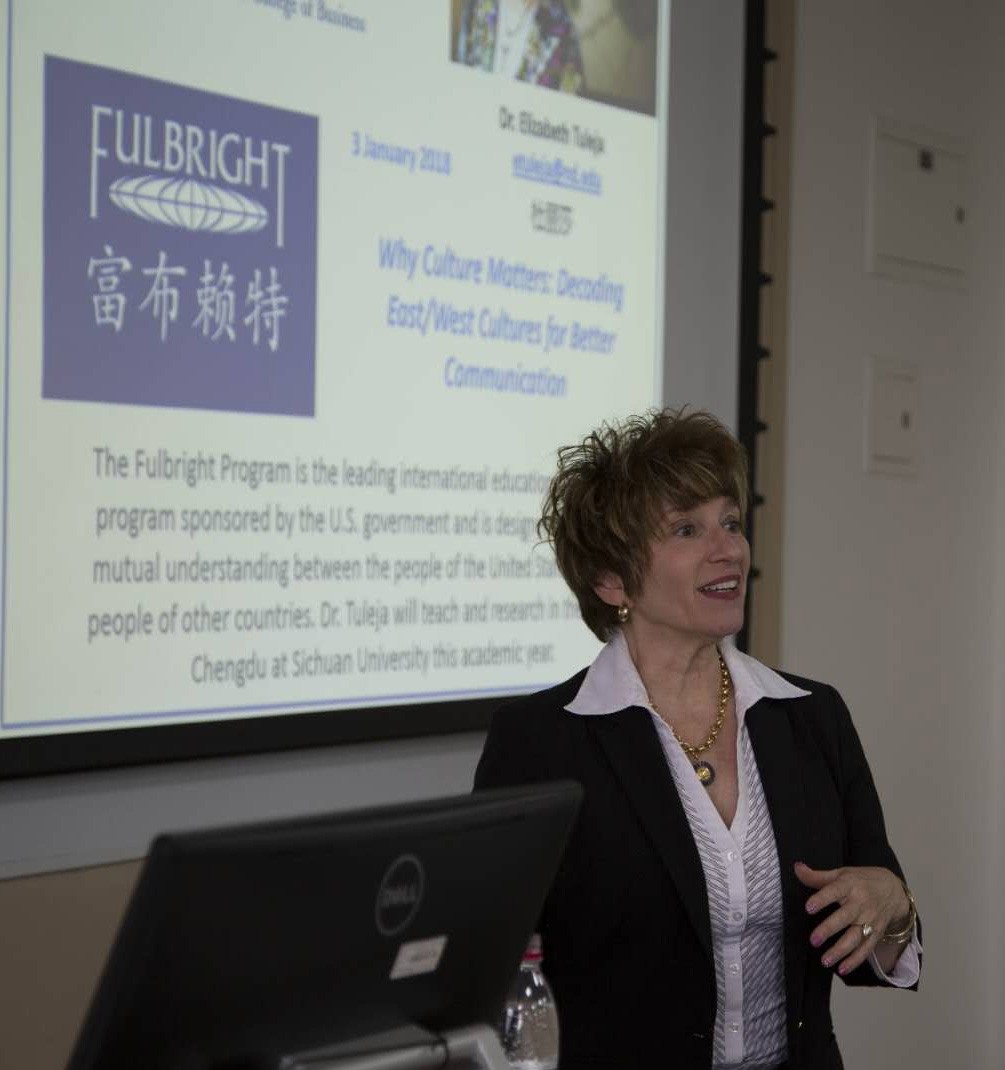 Cultural curiosity has always been at my core. Now as I launch my online executive education and coaching platform, I'm excited that I'll get to share my passion for teaching and learning with people around the world.
It's been 20 years since I started teaching in business schools across the globe – Wharton and Notre Dame in the USA and Chinese University of Hong Kong and Sichuan University in China.
I've also lived in Mexico and Peru, where cultural curiosity introduced me to remarkable people and amazing adventures: I swam in cenotes – underground water caves in the Yucatan peninsula; and climbed Machu Picchu high in the Andes mountains.
Two of my favorite things, hiking and dancing, help me draw valuable insights about life. First, hiking is hard work – you need to be fit, persistent, and properly fitted for the trek. Second, in ballroom dancing (Salsa or Tango anyone?!) there are leaders and followers – and you need both in order to make things work.
As in life, leading in a global environment you need to be prepared to take on the rough terrain that you encounter as well as be in sync with the people around you. Only then are you able to enjoy the beautiful vistas or move to the rhythm of the beat.